Tamoxifen Citrate Nolvadex
Alias: Nolvadex;TAM
CAS No: 10540-29-1
Einecs No: 234-118-0
MF: C26H29NO
MW: 371.51


Purity: 99%
Appearance: white powder.

Applications:
Antitumor drugs raw material, suitable for breast cancer.It is not correct that Nolvadex reduces levels of estrogen: rather, it blocks estrogen from estrogen receptors and, in those tissues where it is an antagonist, causes the receptor to do nothing. Nolvadex is not an anabolic steroid but is used to manage side effects from steroids.

Specifications:
Test Items

Specification

Test Results

Description

White crystalline powder

White crystalline powder

Identification

IR , UV conform

Conform

Loss on drying

≤0.5ml

0.21ml

Residue on ignition

Not more than 0.2%

0.06ml

Iron

Not more than 0.005%

0.0018%

Heavy metals

Not more than 0.001%

0.0006%

Related substances

Total: Not more than 1.0%

Individual: Not more than 0.5%

0.32%

0.14%

E-isomer

Not more than 0.3%

0.19%

Organic volatile impurities

Conforms

Conforms

Assay

99.0~101.0%

99.51%

Conclusion

Conform with USP30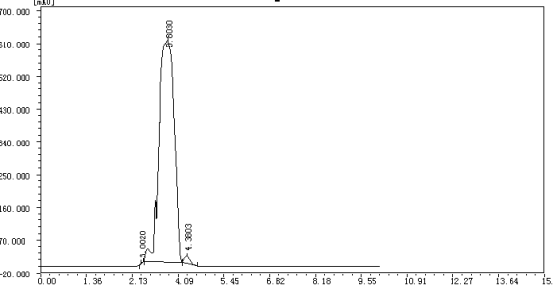 As such, it may act as an estrogen in some tissues while blocking the action of
estrogen in others. In breast tissue tamoxifen citrate is a strong anti-estrogen, and as a result it is commonly used in the treatment of hormone-responsive breast cancer in women. In some cases it is even utilized as a preventative measure, taken by women with an extremely high familial tendency for breast cancer. In male bodybuilders and athletes, tamoxifen citrate is commonly used (off-label) to counter the side effects caused by elevated estrogens subsequent to the use of certain anabolic/androgenic steroids.



Specifications:
Test Items

Specification

Test Results

Description

White crystalline powder

White crystalline powder

Identification

IR , UV conform

Conform

Loss on drying

≤0.5ml

0.21ml

Residue on ignition

Not more than 0.2%

0.06ml

Iron

Not more than 0.005%

0.0018%

Heavy metals

Not more than 0.001%

0.0006%

Related substances

Total: Not more than 1.0%
Individual: Not more than 0.5%
0.32%
0.14%

E-isomer

Not more than 0.3%

0.19%

Organic volatile impurities

Conforms

Conforms

Assay

99.0~101.0%

99.51%

Conclusion

Conform with USP30