Testosterone Undecanoate
Alias: Andriol
CAS No:5949-44-0
Einecs No: 227-712-6
MF: C30H48O3
MW: 456.7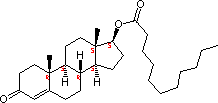 Melting Point: 60 ~ 65℃
Purity: 98%
Appearance: white powder, Odourless.
Applications:
Testosterone undecanoate or testosterone undecylate is an ester of testosterone which is used for the treatment of male hypogonadism, and is currently under research for use as a male contraceptive, testosterone undecanoate is sold and distributed under the brand names Andriol, understor, nebido, pantestone, restandol.
Andriol is a version of the anabolic steroid testosterone undecanoatedeveloped by the pharmaceutical company organon, testosterone is said to enter the body as a fat through the lymphatic system, experience from user indicates that in dose of less than 240mg per day, effects are negligible, except at every onset of use, while even in higher dose , effects are still minimal , testosterone undecanoate is therefor thought that most of the steroid is somehow not making it into the blood stream.
Specifications: COA
Test Items

Specification

Test Results

Appearance

White or almost white crystalline powder

Conform

Loss on drying

≦0.5%

0.24%

Optical rotation

+68°~+72°

70.3°

Melting Point

60~65°C

61-63°C

(HPLC)Assay

97-103.0%

98.71%

Free acid

0.5%max

0.35%

Conclusion

The aboye product conforms analysis standard
Testosterone Undecanoate dosage:
1. Medically, Testosterone Undecanoate dosages are prescribed in the range of 120 – 160 mg per day for the first 2 to 3 weeks. Following this initial period, prescription guidelines call for a reduction of Andriol dosage to a maintenance schedule of 40 – 120mg per day.
2. For performance and physique enhancement, the Testosterone Undecanoate dosage must understandably be far greater. A minimum of 250mg per day is required (6 or 7 capsules) to see any measurable effect, and many individuals claim that the results at this range are on the low end.
Commonly, Testosterone Undecanoate is used at a dosage of 400 – 500 (10 – 14 capsules) per day. Advanced or experienced users may require even higher dosages than that.
Testosterone Undecanoate Cycles and Uses:
Testosterone Undecanoate can be used on its own in a solitary cycle, or used as a base Testosterone compound while other anabolic steroids are used. Cycle lengths of Testosterone Undecanoate dosage can range from 8 weeks to 12 weeks or more.
Beginners may be tempted to opt for Testosterone Undecanoate due to its convenience as an oral Testosterone product, but even this is a rare occurrence. Beginner Testosterone Undecanoate cycles would usually involve Testosterone Undecanoate dosed at 300mg per day for 8 – 12 weeks.